The Erasmus+ Programme is designed by European Commission to support the efforts of Programme Countries to efficiently use the potential of Europe's human talent and social capital, while confirming the principle of lifelong learning by linking support to formal, non-formal and informal learning throughout the education, training and youth fields.
The European Funding programme in the field of education, training and youth work, and the Erasmus+ Programme enables individuals at all stages of their lives to boost their skills and employability across to Europe. The Programme also improves opportunities for cooperation and mobility with Partner Countries, notably in the fields of higher education and youth.
This is an umbrella programme integrating various educational, training, sport and youth initiatives. The long-term strategic objectives of EU education and training policies are:
Making lifelong learning and mobility a reality;
Improving the quality and efficiency of education and training;
Promoting equity, social cohesion and active citizenship;
Enhancing creativity and innovation, including entrepreneurship, at all levels of education, training and youth.
National Agencies are responsible for the management of certain parts of the Erasmus+ programme in programme countries under supervision from its parent, the Education, Audiovisual and Culture Agency Executive Agency (EACEA). Turkey (the National Agency) was first included in 2002 as part of the State Planning Organization of the Prime Ministry of the Turkish Republic. Since 2011 responsibility for the programme has been handled by the Ministry for EU Affairs.
Turkish universities first became involved in the programme in 2003. At Akdeniz University, which was one of the first in Turkey to participate in the Erasmus Programme from the very beginning as a pilot university in the implementation of European cooperation, we have progressed to the point where our work was recognised by the award in 2009 of the Erasmus Lifelong Learning prize, an award given to institutions chosen from amongst every university in Europe. This was to a large degree in recognition of the innovative coordination which we initiated between volunteers from the European Voluntary Service, and the work carried out by the International Relations Office. This served to improve the visibility of both programmes, and earned the university the "Lifelong Learning ERASMUS Award in Bronze 2009 – Student Mobility", the first time a Turkish University has been recognised with an award of this kind. (http://ec.europa.eu/education/erasmus/doc892_en.htm).
Since 2003, and the first successful application by Akdeniz University, we have recorded the following achievements;
First university to find a place on the EU Education and Youth Programmes Committee
First university to organize an orientation programme for incoming and outgoing students
Akdeniz university recognised for its good practices among European universities,
First university to organize an Erasmus Staff week,
First university to organize an Erasmus coordinators meeting which allowed new coordinators to benefit from shared experiences,
Lecturer Mustafa Çoban – Erasmus Staff Ambassador for Turkey, is from Akdeniz University.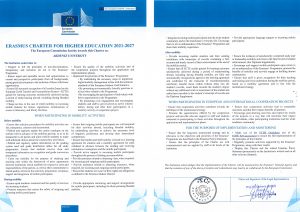 Eklenme tarihi :24.10.2022 12:50:20
Son güncelleme : 30.12.2022 11:43:58